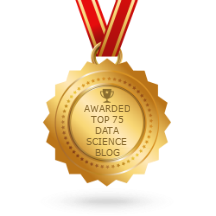 Welcome to the About page for Neural Market Trends, and award winning blog! Neural Market Trends is a machine learning and predictive analytics blog created and run by Thomas Ott since 2007. It has primarily focused on RapidMiner Tutorials and their application to the Financial Markets. I also spent a lot of time posting about Forex, the Markets, Investing, Trading, and the market implosion in 2007 / 2008.
The blog has since branched out to include many different type of Tutorials in written and video format on topics with a broad range.
I left RapidMiner in 2017 to create my own Data Science consultancy and educational company called - what else - Neural Market Trends! I'm a RapidMiner Ambassador and can help you set up RapidMiner Studio, Server, and Radoop in your organization. I also provide training services as well. Feel free to reach out to me if you need consulting services (@ tom $% @ ** neuralmarkettrends dot com) or want more educational help beyond what I share on my YouTube channel or on my Tutorial section.
I closed down my consultancy in September 2018 when I joined the ranks of H2O.ai as a Senior Customer Sales Engineer. At H2O.ai I now spend time educating and building POC's for prospects and customers as they evaluate H2O's open source software and Driverless AI. I do travel a lot and that gives me time to reflect on things such as market trends (especially in AI and Startups), and what deadline I'm behind on.
I try to add new tutorials as time permits on this blog but I started to move toward my GitHub repository more if it's just code.
Thanks for checking this blog out, I do offer a weekly newsletter if you want to sign up for it. You can find the form at the bottom of each post.
PS: The views I (or others) express on this blog are mine (or theirs) and don't reflect my employer!