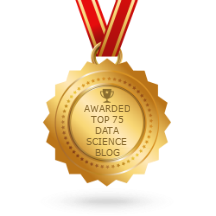 Welcome to the About page for Neural Market Trends, and award winning blog! Neural Market Trends is a machine learning and predictive analytics blog created and run by Thomas Ott in 2007. It has primarily focused on RapidMiner Tutorials and their application to the Financial Markets.
The blog has since branched out to include many different type of Tutorials in written and video format and topics with a broad range.
I left RapidMiner in 2017 to create my own Data Science consultancy and educational company called - what else - Neural Market Trends! I'm a RapidMiner Ambassador and can help you set up RapidMiner Studio, Server, and Radoop in your organization. I also provide training services as well. Feel free to reach out to me if you need consulting services (@ tom $% @ ** neuralmarkettrends dot com) or want more educational help beyond what I share on my YouTube channel or on my Tutorial section.
Update
I now work for H2O.ai as a Senior Customer Sales Engineer. Views expressed on this blog are mine and don't reflect my employer!